November 6, 2000

DEAD CENTER
Just Before Election, Politics and Religion Mix Easily at a Michigan Church
By JODI WILGOREN

--------------------------------------------------------------------------------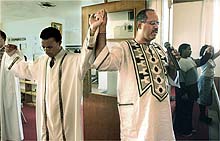 Nicole Bengiveno/The New York Times
The Rev. Michael C. Murphy led worshipers in prayer on Sunday at St. Stephen's Community Church in Lansing, Mich.

LANSING, Mich., Nov. 5 — The Rev. Michael C. Murphy preached this morning about David, the renowned king of Israel, calling him "a shrewd politician" and "a great organizer."
He also preached about Fannie Lou Hamer, the renowned civil rights leader, and how she gave up her job — and nearly her life — to register African-Americans to vote in Mississippi in 1964.
"As you prepare for Tuesday, know that you have the power," Mr. Murphy, clad in a white dashiki embroidered in gray, black and gold, told his small but sprightly flock here at St. Stephen's Community Church on the west side of this capital city.
"Fannie Lou Hamer said we went from picking cotton to picking presidents," he added. "I know you all don't pick no cotton, so go out there and pick the future."
The impending elections were everywhere at St. Stephen's this morning, in the unspoken message of the rousing hymns and the implied moral of Pastor Murphy's sermon, the whispers among the deacons and the silent prayers of the parishioners.
An insert in the printed program quoted Second Corinthians as saying, "Where the spirit of the Lord is, there is freedom," and reminded patrons the hours that polls will be open on Tuesday. A congregant who will be out of town brought her absentee ballot to the pastor so he could drop it off. Two African-American newsletters distributed at the church were filled with political endorsements and headlines urging readers to participate in the process.
The first announcement from the pulpit was, "Please vote on Tuesday," and Mr. Murphy's final words were: "Remember Tuesday. Remember to vote. Go in the power of the Lord."
There is a long and proud tradition linking politics and the black church, and never is it more apparent than on the Sunday before Election Day, as candidates for offices large and small parade across pulpits, urging people to vote — for them.
Indeed, Vice President Al Gore started his day today at the Mount Carmel Baptist Church in Philadelphia. (Gov. George W. Bush was with the Rev. Billy Graham at Old St. Andrews Episcopal Church in Jacksonville, Fla.) Hillary Rodham Clinton was scheduled to sprint through eight African- American churches in New York, while Debbie Stabenow, the Democratic Senate candidate in Michigan, planned to stop at seven congregations in Detroit.
Here in Lansing, Mayor David Hollister led a group of local candidates on a similar tour, from a 7:30 a.m. service at the Union Missionary Baptist Church to a noon visit to the crowd of 800 at Mount Zion Missionary Baptist Church.
The only politician at St. Stephen's, though, was Mr. Murphy, the president of the Lansing City Council who is running for the State House of Representatives, a race he is expected to win easily.
St. Stephen's is a humble church of painted cinder-block walls and a warm wood- paneled ceiling, where the pastor greets individuals by name from the altar and nobody minds when his assistant accidentally calls a hymn the choir has not yet rehearsed. It is a small church, just 300 members, and the pews filled slowly this morning until some 80 people were on their feet, with those who did not have a baby in their arms clapping their hands over their heads, as they sang the spiritual "Shout."
But it is a church steeped in politics, founded 13 years ago with a progressive philosophy of community service. Affiliated with the United Church of Christ, its services are a mix of denominational traditions, communion followed by the laying on of hands, call-and-response sprinkled throughout the sermons. Between Sundays, the middle-class congregation of government workers and university professors rehabilitates houses for poor neighbors, provides screenings for prostate cancer and, perhaps most of all, registers residents to vote.
"Being in church and being in politics has been my whole life," said Mr. Murphy, 48, who grew up in Chicago, where his father helped welcome the Rev. Dr. Martin Luther King Jr. to the city.
Last week, Mr. Murphy was one of 100 black ministers summoned to the White House, where President Clinton asked for help in getting out the vote. On Friday, he led a prayer luncheon of local clergy members with a similar focus, and on Saturday, he and several colleagues campaigned door- to-door in African-American neighborhoods here.
"We stand on the shoulders of forebears who stood up, of forebears who weren't afraid to challenge the status quo, of forebears who weren't afraid to challenge that which is wrong," he told his congregation this morning. "Even during segregation, even during slavery, our forebears were still able to say, `I look to the hills from whence cometh my help.' "
Felicia Wasson, one of nine choir women in white robes with red satin collars, plans to take Tuesday off from her job at the Statehouse to help ferry people to the polls. "Many, many people have made many, many sacrifices for us to be able to express ourselves politically," Ms. Wasson said.
"Being a Christian, we have an obligation and a responsibility to take care of our community," added Brenda Henry, a public health consultant who is also in the choir. "We're not just Christians in this building. God has always taught me about the importance of leadership. There's always been an obligation to select leaders. Voting is now the process."
An avowed Democrat, Mr. Murphy does not mention candidates' names or parties from the pulpit. Both Dianne Byrum and Mike Rogers, state senators in a tight race to represent Lansing in the United States House of Representatives, have visited his church in recent weeks.
"I'm not going to get up and tell people: Vote for Al Gore," the pastor laughed, "but I do tell people: Stay out of the Bushes."
So what does a City Council member, a state House hopeful and the leader of a politically minded church plan to do between now and Election Day?
"Pray."